An SUV Adventure From Auckland to Queenstown​
If you are on a pretty tight time schedule but you want to maximise your holiday exploring the cities and scenery of both the North and South Islands, this exciting 6-day journey which travels from Auckland to Queenstown will ignite your wanderlust. As you embark on an epic road trip to experience the very best of New Zealand, start comparing rental SUVs with VroomVroomVroom.
HIDE ME
Auckland to Queenstown Itinerary:
Day 1: Auckland
Day 2: Taupo​
Day 3: Wellington​
Day 4: Picton​
Day 5: Christchurch​
Day 6: Queenstown​
Recommended car
Book an intermediate SUV such as Toyota RAV4, Hyundai Tuscon or Nissan Xtrail. This type of rental vehicle can hold 3 large suitcases and 2 small bags. Known for having better handling and drivability, an intermediate SUV is often the best choice for long trips or if you are planning some off-road adventures along the way.
Important
No rental cars are allowed on the ferry, so if you wish to visit both the North and South Islands, you will need to drop off your vehicle either in Wellington or Picton before boarding the ferry. Please note that all vehicles that are taken on the ferry are subject to relocation fees and will be liable for full cost of any damage.​ Read our Interisland Summary for Car Hire in New Zealand to gather more information.
---
Day 1: Experience the Auckland Harbour Bridge Climb​
Auckland highlights
With heaps of diverse sights and attractions on offer, it's no surprise why Auckland is ranked as one of the most liveable cities in the word. Head to Mount Eden for a great panorama of the city.​
For an amazing visual arts experience, check out the Auckland Art Gallery Toi o Tamaki right in the heart of the city.​ Open daily from 10 am to 5 pm, the Gallery provides a lively calendar of lectures, film screenings, performances, and fun activities for kids.​
The city also serves as a playground for both the city savvy and those looking for adventure.​ Enjoy jet boating on the harbour or join an Auckland Harbour Bridge climbing tour to scale the iconic bridge ​as you experience the gorgeous scenic views of the city.
Useful tips: The Northern Gateway Toll Road is the only toll road you will encounter in Auckland. Traffic can be very busy in Auckland during peak times. If you can, avoid driving or allow extra time for your trip during these periods.​
Day 2: Don't miss Lake Taupo's top attractions​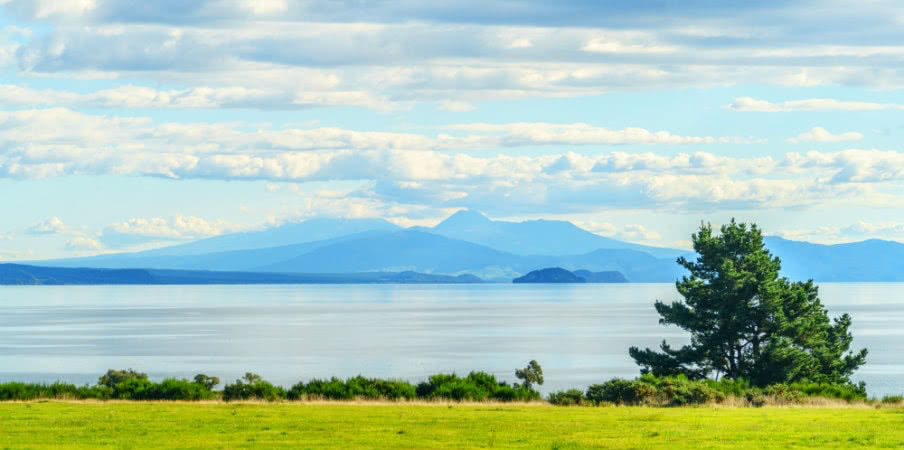 Taupo ​highlights
Taupo ​offers breathtaking scenery and a multitude of things to do. To get the most out of your hire car, pack a picnic basket and do the Great Lake Taupo drive​. Check out our Day Trip from Auckland to Taupo​ for a plethora of attractions and free activities.
Only a short drive from the lake is the Aratiatia Rapids, which is another must-visit attraction in Taupo. If you want to see the Aratiatia Rapids gradually filling up, arrive at least a few minutes early before the dam is due to release.​
Discover several walking trails within the dual World Heritage Tongariro National Park and experience the stunning volcanic alpine landscape.
Useful tips: Swimming is not allowed at the Aratiatia Rapids. A warning alert can be heard from the siren area before every opening of the dam. Be wary that the dam gates may release at any time without warning. For your safety, make sure to stay out of the spillway and downstream area.​
Day 3: Taste your way around Wellington​
Wellington ​​highlights
Wellington has something for everyone​. Whether you want to ride the cable car or explore the outer suburbs, you will find something to enjoy here.
Known to have more cafes, bars, and restaurants per capita than New York City, food and drinks here are spectacularly good. The city is also known as the craft beer capital. For a great culinary experience, check out the Hippopotamus Restaurant and Cocktail Bar​.
If you are in Wellington because of its importance in the film industry, driving to Miramar is a must. The region played a significant role in the production of the Lord of the Rings.​
Useful tips: Most vehicles can only be driven on paved roads. Off-road driving is prohibited. Renters are restricted from driving to any unformed roads, including beaches or through streams, dams, rivers, or flood waters.​​
Day 4: Explore several wineries in the Marlborough region from Picton​
Picton ​​​highlights
Make sure to spend the morning exploring the streets of Picton. The Edwin Fox Maritime Museum is definitely worth a look.
The 35 km Queen Charlotte Drive between Picton and Havelock is certainly one of the most stunning drives you will experience, so leave enough time for multiple stops along the way.
If you want to taste the fabulous wines of the region, take the road south towards Blenheim. This is the heart of the Marlborough wine region. Explore the vineyards and sample their sparkling Chardonnay, complex Pinot Noir and many more. Just be sure you have a sober or an additional driver.
Useful tips: Make sure to notify your supplier when you collect your vehicle about your inter-island travel plans. Inter-Island Ferry means the ferry trip on a car and passenger ferry in either direction between the North and South Islands of New Zealand. Note that it takes around 3 to 3.5 hours to travel from the North Island to the South Island with a ferry.
Day 5: Visit the Botanic Gardens in Christchurch
Christchurch ​​​​highlights
Explore central Christchurch for some local history at the charming heritage building of the Canterbury Museum or stretch your legs with a leisurely walk through the Christchurch Botanic Gardens.
Shop in the picturesque Spanish Mission style New Regent Street or visit the funky new pop shops at Cashel Mall.

Treat yourself and ride the

Christchurch Gondola to e

njoy the stunning views of the city and beyond from the top. Relax with a coffee or grab a snack at the Red Rock Cafe after, and check out what items to buy at the Shop at the Top.​
Useful tips: Note that from April to October, ice and snow can affect the roads.​ Snow Coverage is compulsory if renters want to travel above the snow line.
Day 6: Experience the wonders of Queenstown​
Queenstown ​​​highlights
​If you want the adrenaline rush Queenstown is known for, take your pick from the Canyon Swing, Zipline, Shotover Jet, Nevis Bungy, or White Water Rafting.
Take a short trip to the nearby Gibbston Valley wine region to enjoy lunch at one of its famous vineyards. Make a stop at the Chard Farm cellar door, take a cellar cave tour at Gibbston Valley Winery, or visit the award-winning Peregrine vineyard.
Of course, no trip to Queenstown is complete without a visit to world-renowned

Fergburger. Just be prepared for long queues.
Useful tips: Please be advised that parking spaces in Queenstown get filled up quickly, so make sure to arrive early in the morning or early evening to get a parking space. The fees for illegal parking range from $40-$60.​
HIDE
Hire a car in Auckland
HIDE ME
---
Map of Auckland to Queenstown Road Trip
Do you know that you can download this map directly to your phone? Press the box symbol located on the top-right corner of this map to open in your Google Maps app. Now you can easily access this map on your next road trip adventure from Auckland to Queenstown.
Travel time: 22 hours and 4 minutes (1,551.9 km) via SH 1​
---
Other popular road trip destinations