Compare Deals to Find a Cheap Car Rental at Napier Airport
VroomVroomVroom can help you find a cheap car hire at Napier Airport. We compare deals from Avis, Thrifty, Budget, Hertz and Europcar. Don't waste time visiting multiple websites, start comparing rental cars in Napier right here.
Hawke's Bay Airport, or more commonly known as Napier Airport, was named New Zealand Regional Airport of the Year in 2013. Low-cost airline Jetstar is operating out of Napier Airport, in competition to the national carrier, Air New Zealand. This makes flying into Napier Airport to pick up your hire car an attractive option, with cheaper and more frequent flights now available.
Why rent a car in Napier Airport with VroomVroomVroom
It's easy to book a rental car at Napier Airport with VroomVroomVroom. Here are some of the reasons why a lot of people choose to book their rental cars through us.
Easy comparison system: Save time browsing different sites because you can find all the available vehicles of our suppliers in our site.
Wide selection of cars: There are more choices when you book a vehicle with us which makes it easy to find the right rental car.
Great rates: We have negotiated with our partners so we can provide the best prices. Read our Price Promise​ to find out how you can get the best deal.
Trusted since 2001: Book with confidence because we are the experts in rental cars and we can help you find the perfect car hire. Contact us via email, phone or live chat.
Best time to visit Napier
Weather-wise, the seasons in Napier are in the opposite as compared to the larger part of the world. The summer months are from November to February, while fall is between March and April, which by the way, is the perfect time to visit as the temperatures are good. If you are planning to extend your trip, April to May is also an ideal time to visit.
Napier is host to some major events, such as The Tremains Art Deco Festival and the Mission Estate Concert. Make sure you book your car well in advance!
Driving tips at Napier Airport
Located on State Highway 2 at Westshore, the driving time at the Napier Airport, also known as Hawke's Bay Airport. is about 10 minutes from the Napier CBD and 20 minutes from Hastings via rental car.
Currently, the airport has six rental car providers, with counters in the terminal and vehicles available not far away. Also, take note that the rental car parks for these top depots can be found at the northern end, to the left of the terminal. If it is your first time to drive in New Zealand, it is advisable to read our driving tips.
Explore Napier with a reliable rental car
Planning of a holiday in Napier can take a lot of time, that's why it's essential to make a plan about your trip and check when the weather is at it's best, the attractions are at their least crowded, and the accommodation is at its cheapest. In this guide, we came up with a list of worthy things that you can do and see when in your reliable cheap car rental in Napier Airport.

---
Attractions
Hooters Vintage & Classic Vehicle Hire
Address: 68 Thames St, Pandora, Napier 4110, New Zealand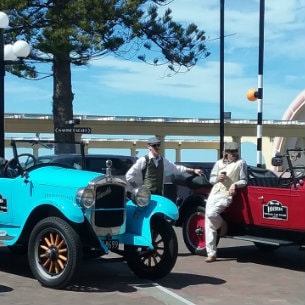 Based in Napier, Hawke's Bay, Hooters is a family run business offering tours, wedding, events and self-drives in a variety of vintage and classic cars. The fleet currently houses over 20 vehicles which makes one impressive convoy for groups or corporate events. Daily Tours run from the Napier information centre on marine parade. What better way to introduce yourself to the Art Deco heritage of Napier than to travel in the style and decadence of the era. Explore the city limits or head further afield and soak up some of Hawkes Bay's finest wineries. Sit back, relax and enjoy the journey as your chauffeur awaits.
On Yer Bike Winery Tours
Address: 2543 State Highway 50, Flaxmere, Roys Hill 4175, New Zealand
Hawkes Bay is well known for its world-class wines, some of New Zealand's oldest wineries are here. There are many ways to tour the cellar doors for tastings, but one of the best is to do it by bike. As part of the New Zealand cycleways project, the Hawkes Bay has over 200 kilometres of trails, with part of the network devoted to following the vineyards. On Yer BikeWinery Tours is a bike hire company that specialises in vineyard visits. They will gear you up, and send you out on a 20-kilometre circuit, concentrating in the territory known as the Gimblett Gravels and Bridge Pa Triangle. They offer vehicle support and a wine collection service. New Zealand drink drive laws have become stricter recently, choose a way to tour the vineyards which keeps you safe.
Bai Mint Thai Massage
Address: 6 Hastings St, Napier South, Napier 4110, New Zealand
Step into a world of relaxation and calm at Bai Mint Thai Massage! Open 7 days a week, enjoy and treat yourself for a full body massage experience which involves stretching and deep tissue massage, as well as foot massage and back and shoulder massage. Often people don't know how much stress they are carrying on their body until they receive a treatment from a professional therapist. At Bai Mint Thai Massage, they offer friendly and professional treatments from qualified and experienced practitioners from Thailand. Their signature massage is the Traditional Thai Massage which is an ancient massage. It is deeply refreshing and revitalising. If you want to experience feeling relaxed and rejuvenated, make your reservation now.
---
Accommodation
Ormlie Lodge
Address: 17 Omarunui Rd, Taradale, Napier RD3, New Zealand
Built in 1899, Ormlie Lodge is a beautiful hotel offering boutique accommodation, combining a little of Hawkes Bay's old world charm with contemporary design and modern-day comfort.
Set on 12 acres of gardens, this elegant lodge is only a 15-minute drive from both Ahuriri Harbour and Hawke's Bay Airport. Mission Estate Winery and several other vineyards are also a 15-minute drive. It is a 30-minute drive from Ocean Beach and a 40-minute drive from Waimarama Beach. As you round the sweeping drive, Ormlie Lodge offers up her inner beauty as you are led through the main entrance into the expansive hallway.
The hotel offers 6 rooms, complimentary WiFi, each with an en-suite and the comfort you should expect. Breakfast is served continental style – either in the privacy of your own room or select an outside space, on one of the many spectacularly sunny days Hawkes Bay is known for. Truly, Ormlie is perfectly located for you to enjoy all that Hawkes Bay has to offer – from concerts at Mission Estate to Art Deco Weekend, strolling through the Farmers Market. If you love golf, the Napier Golf course is adjacent to Ormlie with complimentary green fees when staying at Ormlie.
Pebble Beach Motor Inn
Address: 445 Marine Parade, Napier, NZ
Ranked No.1 of 47 hotels in Napier and Travellers' Choice™ 2014 Winner for service by Tripadvisor, you won't be disappointed with this luxurious oceanfront accommodation that's set perfectly on Napier's Marine Parade. Within easy walking distance to restaurants, cafés and the city centre attractions, You'll feel like royalty with the in-room spa pools, "Satinjet" rainforest showers and super-king beds.
Portside Inn Backpackers Lodge
Address: 52 Bridge Street, Ahuriri, Napier, NZ
Best ranked hostel in Napier. Ideal for those on a tighter budget but still out for a quality experience, this Backpackers Lodge provides easy walking distance to cafes, restaurants, bars and shops. It has spacious facilities and BBQ areas for you to enjoy.
---
Restaurants & Bars
Indigo Napier
Address: 24A Hastings St, Napier South, Napier 4110, New Zealand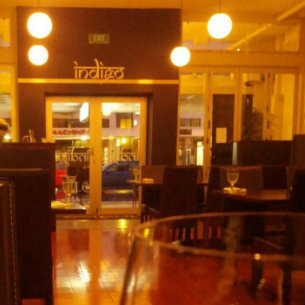 If you love authentic Indian cuisine, Indigo Napier is a must! Their two high-class chefs Kamlesh and Awatar, with many years of experience and training both in India and New Zealand give Indigo a real edge with very high-quality authentic India cuisine utilising a traditional Charcoal Tandoor which greatly enhances the flavour of the food. At Indigo Napier, they believe in using only the freshest and best local produce and in providing a service that ensures their guests feel they are truly important. In addition, they developed a truly Authentic menu with both traditional dishes as well as some very special ones not seen anywhere else. They both take the utmost pride in the quality of preparation and presentation.
Ormlie Restaurant
Address: 17 Omarunui Rd, Taradale, Napier RD3, New Zealand
The new restaurant at Ormlie is the perfect place to wind down after a drive or sightseeing all day. Relax in the bar this winter with the fire roaring, enjoying celebrated wines, craft beer, cocktails or a gin or two. Head chef Andy Glover and his team deliver a seasonally inspired, a la carte menu, incorporating food sourced locally, executed with flair and passion.
Ormlie also offers a modern spin on a traditional High Tea, where guests can relax in this stunning setting and enjoy locally sourced tea from Kerikeri, scrumptious savouries and freshly baked sweet treats made to order in-house.
Should you be celebrating a special occasion, Ormlie can help you create a memorable experience: from small intimate birthday dinners to large elaborate balls. Ormlie's beautiful space is for you to make it your own. Make your reservations now to enjoy lunch in the sun, or a romantic dinner at Ormlie.
Mission Estate Restaurant & Winery

​Ranked #3 of 130 restaurants in Napier and 214 restaurants in Hawke's Bay Region awarded Certificate of Excellence 2014 by Tripadvisor - this restaurant provides a Brasserie, New Zealand cuisine in an intimate indoor or stunning alfresco dining atmosphere.
VroomVroomVroom
New Zealand
,
North Island
,
New Zealand