Compare Rates to Get a Cheap Car Hire at Napier Airport
VroomVroomVroom car hire at Napier Airport at the most affordable rates. We compare car rental deals from Avis, Thrifty, Budget, Hertz and Europcar. Don't waste time visiting multiple websites, compare car rental in Napier right here. 
Napier has its own airport, which was voted New Zealand Regional Airport of the Year in 2013. Low cost airline Jetstar is now operating out of Napier Airport, in competition to the national carrier, Air New Zealand. This makes flying into Napier Airport to pick up your hire car an attractive option, with cheaper and more frequent flights now available. 
Why rent a car in Hawke's Bay Airport at VroomVroomVroom
It's easy to book a rental car at Napier Airport with VroomVroomVroom. Here are some of the reasons why a lot of people choose to book their rental cars through us. 
Easy comparison system: Booking your cheap car rental in Napier Airport early means you can take advantage of the current price and availability. 

Choice: There are more choices when you book a vehicle with us. And compared to other car rental comparison websites, you don't need to pay a fee to book with us. Our rates are cheaper than other direct rental car companies.

Customer care: Got questions? Our customer care experts will be happy to assist you. Contact us via email, phone or live chat. 
Driving tips at Napier Airport
Located on State Highway 2 at Westshore, the driving time at the Napier Airport, also known as Hawke's Bay Airport. is about 10 minutes from the Napier CBD and 20 minutes from Hastings via rental car.  
Currently, the airport has six rental car providers, with counters in the terminal and vehicles available not far away.  Also, take note that the rental car parks for these top depots can be found at the northern end, to the left of the terminal. 
Use your rental car to check out some of the great events while visiting or staying in Napier-Hastings, including Art Deco Weekend, New Zealand Horse of the Year Show, and the NZ Royal A & P Show, Hastings.  
To read more about the North Island, here are some great articles:
Napier-Hastings Guide by VroomVroomVroom
Planning of a holiday in Napier can take a lot of time, that's why it's essential to make a plan about your trip and check when the weather is at it's best, the attractions are at their least crowded, and the accommodation is at its cheapest. In this guide, we came up with a list of worthy things that you can do and see when in your reliable cheap car rental in Napier Airport.
---
Attractions
Art Deco Trust
The Art Deco Trust is dedicated to the preservation, promotion and celebration of the Art Deco City of Napier. Providing a variety of walks and tours that will take you back in time,  you learn about the history and stories embedded in the architecture of Napier. 
The National Aquarium of New Zealand
The National Aquarium of New Zealand is based in Napier. It is a wonderful experience that gives visitors insight into the life of many sea creatures and their natural surroundings. Open from 9am-5pm 7 days (Last entry @ 4:30pm and Closed Christmas day) 
Take a Photo of Pania
Located on the foreshore of Napier is the statue of Pania of the Reef, one of the most photographed attractions in New Zealand. The statue is dedicated to a Maori legend of forbidden love. Pania lived in the reef off the coast of Napier. By day she would frolic in the sea and at night would head into the river to rest. One night while resting alongside the river she spotted the handsome son of a Maori chief and they fell in love. Although they married, Pania could only spend nights with her lover. During the day, her family in the sea would call for her to return. In a desperate attempt to keep Pania by his side, the chief's son tried to trap her into remaining on land. Pania fled to the reef, never to see her husband again.
Waimarama and Ocean Beach 
These great spots are 30 minutes drive from Napier, long  beaches perfect for surfing, fishing and walking.
Te Mata Peak 
A one-of-a-kind tourist spot. Go driving to the top of this peak for a fantastic view of beautiful scenery overlooking the Tukituki River. 
Wine Anyone?
Napier is famous for wine, and houses the oldest wineries in New Zealand. The high concentration of wineries in a small area makes it a great place to tour.
---
Accommodation
Kennedy Park Resort
Address: 11 Storkey Street, Napier, NZ

5 star Camping/Caravan site and Certificate of Excellence 2013 WINNER by Tripadvisor. This site has modern, fully-equipped communal kitchens, bathrooms and laundry facilities, BBQ's, group dining room (by arrangement), internet kiosk room, sky television on the big screen in the TV lounge, wireless broadband internet connection and a waste disposal station. 
Located in the heart of Napier this site makes access to supermarkets, the Art Deco shop, galleries and cafes an easy 5 minute drive or 20 minute walk.
---
Restaurants & Bars
Indigo Napier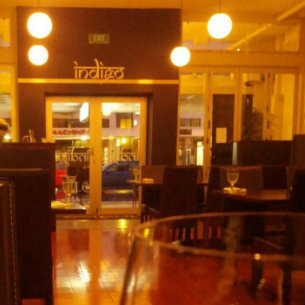 If you love authentic Indian cuisine, Indigo Napier is a must!
Their two high-class chefs Kamlesh and Awatar, with many years of experience and training both in India and New Zealand give Indigo a real edge with very high quality authentic India cuisine utilising a traditional Charcoal Tandoor which greatly enhances the flavour of the food.
At Indigo Napier, they believe in using only the freshest and best local produce and in providing a service that ensures their guests feel they are truly important. In addition, they developed a truly Authentic menu with both traditional dishes as well as some very specialist ones not seen anywhere else. They both take the utmost pride in the quality of preparation and presentation.
Make sure to reserve a table at Indigo so you can also try their extensive and comprehensive wines. Indigo has one of the most exciting Whisky/Bourbon menus with over 50 whiskies and bourbons from around the world.
Mission Estate Restaurant & Winery
Ranked #3 of 130 restaurants in Napier and 214 restaurants in Hawke's Bay Region awarded Certificate of Excellence 2014 by Tripadvisor - this restaurant provides a Brasserie, New Zealand cuisine in an intimate indoor or stunning alfresco dining atmosphere. 
Open: 10am daily, with the lunch menu and dinner menu changing regularly to reflect the seasonal influence. 
VroomVroomVroom
Napier Airport
,
North Island
New Zealand