Take a road trip from Auckland to New Plymouth
Experience the amazing destinations that are located in between Auckland and New Plymouth for a once in a lifetime North Island road trip. This adventure will take you to the must-see locations New Zealand has to offer from The Hakarimata Scenic Reserve to Mount Taranaki. For the ultimate road trip, book a car with VroomVroomVroom and start making memories - what are you waiting for!
Day 1: Start your road trip off at the Hakarimata Scenic Reserve
Stop 1: The Hakarimata Scenic Reserve is the first stop off on your Auckland to New Plymouth road trip. The Waikato region is a stunning area filled with waterfalls, rainforests and epic views. There are an abundance of interesting walks and sights to see in the 1,850 hectares of protected forest.
Stop 2: A popular walk is the Summit Track which features a 1349 step climb that many people challenge themselves to complete.
Stop 3: Another stand-out is the Hakarimata Kauri Loop Track where you will find the Kauri tree. Once covering 1.2 million hectares of land these trees are now scattered throughout the area. You'll find a large Kauri tree on this walk where its size is sure to impress!
Day 2: Check out the award-winning Hamilton Gardens
Stop 1: Located right next to the Waikato River, Hamilton is a city that is known for its stunning visuals. The award-winning Hamilton Gardens are a stand out here with millions of tourists visiting this breathtaking location every year. Another place to visit here in Hamilton is the Waikato Museum which is in the heart of Hamilton's cultural precinct. From there you can immerse yourself in the gourmet food and bustling nightlife.
Stop 2: Just a short 45 minutes drive from Hamilton is Matamata. The Lord of the Rings set famously known as The Shire is located right here! You will be blown away by the movie set tours and the scenery of this place.
Stop 3: From there you may want to visit the Waitomo caves. They are a cluster of underground caves filled with stalagmites, glow worms and pointy rocks formed by water cascading down the ceiling over many centuries. To get the best view, we recommend going on a boat tour.
Day 3: See the crystal clear blue springs located near Putaruru
Stop 1: The blue springs are filled with the freshest water you will ever see. Being filtered through the Mamaku Plateau for 100 years makes this water extremely pure. When you visit this location you will be in awe of the beautiful streams of water. To get to the blue springs you will need to follow the Te Waihou Walkway. Did you know that most of New Zealand's bottled water is from here? When you check out the blue springs for yourself you won't believe its beauty - the water is crystal clear and depending on the weather it looks like turquoise.
Stop 2: Check out Ngarunui Beach which is famously known for its black sand and great surf.
Stop 3: See the 55m high waterfall known as Bridal Veil Falls located in the Waireinga Scenic Reserve.
Day 4: Get in touch with nature at the Pirongia Forest Park
Stop 1: Just a 25 km drive south-east of Hamilton is the Pirongia Forest Park. This native forest is tranquil and relaxing where the walk itself would be classified as a beginners hike. The nature in New Zealand is like no other place in the world.
Stop 2: The Ruapane Lookout Walk. The air is fresh, the rainforests are green and lush and the streams are clear and clean.
Stop 3: Mount Pirongia Summit Tracks. This place is a must visit on your Auckland to New Plymouth road trip because each and every attraction you visit is different.
Day 5: Take a helicopter ride around Mount Taranaki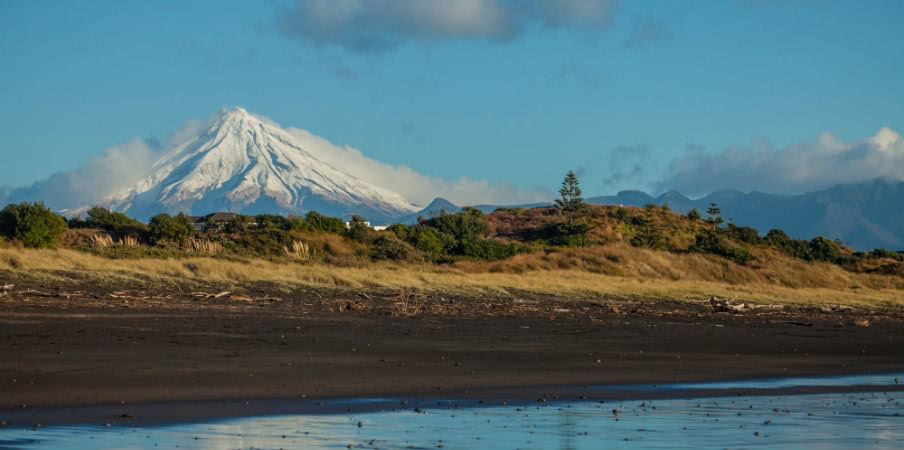 Stop 1: If you think of New Zealand's mountains as ice-capped apexes with lush native greenery in its surroundings, then Mount Taranaki is for you! Surprisingly, this mountain is actually an active volcano, although there has been no sign of activity since the 1850s. A highlight is the Pouakai Crossing which is a walk that takes about one day. Aside from the stunning view of the mountain itself, you are able to see many different wonders such as lava columns, the Kokowai stream that is filled with red water and nature at its finest and purest. You can hike to the top of the summit or venture around the mountain depending on your fitness level.
Stop 2: For an unforgettable experience you can also take a helicopter ride around Mount Taranaki for full 360 degree views!

Stop 3: Named the second best region in the world to surf by the Lonely Planet, Taranaki is located right next to the ocean and is an ideal location due to its positioning. If you are a beginner you can take a surfing lesson right here in one of New Zealand's most popular locations.
Day 6: Relax by the water in New Plymouth
Stop 1: You have made it to the stunning New Plymouth! Filled with culture and things to do, this place is full of gorgeous gardens, restaurants and beaches.
Stop 2: Check out Puketi Gardens - an internationally recognised location due to it's array of many plants and trees.
Stop 3: If you want to be by the water, New Plymouth is the place to be. Watch the sunset and eat fish and chips - a New Zealand favourite, and reflect on the amazing road trip you have been on!
---
Map of Auckland to New Plymouth Road Trip
Do you know that you can download this map directly to your phone? Press the box symbol located on the top-right corner of this map to open in your Google Maps app. Now you can easily access this map on your next road trip adventure from Auckland to New Plymouth.
Travel time and distance: 9 hours and 13 minutes / 622 km
---
Other popular road trip destinations