Compare and Save on Cheap Car Rental Rates in Napier
VroomVroomVroom offers the best rental cars at the most affordable rate. By renting a car  in advance  you can take advantage of the best in current prices and availability. And with our trusted partners of Avis, Thrifty, Budget, Hertz and Europcar, you can be sure of having the most reliable car rental for your trip to Napier.
A reliable hire car in Napier gives you freedom to explore, stopping whenever the mood takes you. Napier is a very distinctive city; after it was devastated by an earthquake in 1931, the decision was made to rebuild in the style of the times. This has made Napier the Art Deco capital of the world, and there are many ways to immerse yourself in this living history during your visit. 
Why book a hire car through VroomVroomVroom?
Below are some of the reasons why customers choose to book their rental cars in New Zealand with us. 
 Easy comparison system: When using our easy search system, a comparison list of available rental cars will be displayed, with prices and vehicles specifications listed side-by-side. 
No cancellation fees: If you need to cancel your hire car booking, we will not charge you. And unlike other car rental comparison sites, you don't need to pay a fee to book with us.
Customer care: Our consistent and high quality service is supported through our outstanding customer care experts waiting to assist you. 
Driving tips in Napier
If you are driving, getting to the Hawkes Bay takes a bit of effort.  Heading south from Auckland or the Bay of Plenty, the most common route is through Taupo. There is little of note on the Napier-Taupo highway, you have the feeling of remoteness, and passing into a different part of the country. The city is approximately 320 km northeast of Wellington, or almost 4 hours of driving via State Highway 50 in a rental car.
Best time to visit Napier
Weather-wise, the seasons in Napier are in the opposite as compared to the larger part of the world. The summer months are from November to February, while fall is between March and April, which by the way, is the perfect time to visit as the temperatures are good. If you are planning to extend your trip, April to May is also an ideal time to visit.
Napier is host to some major events, such as TheTremains Art Deco Festival, from February 15-19 2017, and the Mission Estate Concert on 8 April. Make sure you book your car well in advance! 
If you're not sure what sort of rental car would be best for your trip, you can get some advice here. 
Discover Napier and have fun in your rental car
Popular for its collection of art deco buildings, Napier plays host to an Art Deco Summer Festival every February drawing thousands of enthusiasts from all over the world. The buildings are available all year round on guided or independent tours too.  Hawkes Bay's high concentration of wineries in a small area makes this a great place for vineyard trails. Having a hire car means you can set your own itinerary and schedules. 

So you want to visit Napier but just don't know where to start? Here's some helpful information on the best attractions to visit, things to do and see when in the city.
Attractions | Accommodation | Restaurants & Bars
---
Attractions
Splash Planet
What opened as Fantasy Land (theme park) in 1967 is now 
"Hawke's Bay's Number One Family Attraction"
 6.5 hectares of water madness! And with tons of wet and dry attractions available, memories to last a lifetime will be made. This is a must go family location! Open from 10am - 5.30pm, plan your visit and check out their 
 price rates
.
Art Deco
Address: 7 Tennyson St, Napier South, Napier 4110, New Zealand
Having a car hire means you can tour around Napier in your reliable car rental. Popular for its collection of Art Deco buildings, Napier plays host to the Tremains Art Deco Summer Festival every February when thousands of enthusiasts descend on the city for the weekend. The buildings can be admired year-round, and there are tours and a  self-guided heritage walk available, to appreciate the beauty of the art deco era.
The National Aquarium of New Zealand
Address: 546 Marine Parade, Napier South, Napier 4110, New Zealand
Whether it's swimming with the sharks or peering through a glass window, the National Aquarium of New Zealand ioffers fantastic intimate experiences with underwater life. Leave with a deeper understanding and appreciation for the ocean and the life contained within it.
Bai Mint Thai Massage
Step into a world of relaxation and calm at Bai Mint Thai Massage! Open 7 days a week, enjoy and treat yourself for a full body massage experience which involves stretching and deep tissue massage, as well as foot massage and back and shoulder massage.
Often people don't know how much stress they are carrying on their body until they recieve a treatment from a professional therapist. At Bai Mint Thai Massage, they offer friendly and professional treatments from qualified and experience practitioners from Thailand. Their signature massage is the Traditioner Thai Massage which is an ancient massage. It is deeply refreshing and revitalizing. If you want to experience feeling relaxed and rejuvenated, make your reservation now. 
On Yer Bike Winery Tours
Hawkes Bay is well known for its world class wines, some of New Zealand's oldest wineries are here. There are many ways to tour the cellar doors for tastings, but one of the best is to do it by bike. As part of the New Zealand cycleways project, the Hawkes Bay has over 200 kilometres of trails, with part of the network devoted to following the vineyards. 
On Yer Bike Winery Tours is a bike hire company that specialises in vineyard visits. They will gear you up, and send you out on a 20 kilometre circuit, concentrating in the terriors known as the Gimblett Gravels and Bridge Pa Triangle. They offer vehicle support and a wine collection service.  New Zealand drink drive laws have become stricter recently, choose a way to tour the vineyards which keeps you safe. 
Mohaka Rafting 
Address:  3408 SH 5, Napier 4182, New Zealand
Looking for some extreme adventure? Get here and you're in for a lot of fun and an adrenaline rush! Enjoy the  scenic views of the river Mohaka, and feel the thrill raging through the grade II, III, and V waters. These trips also include cliff jumps, canyons, a raft tour through the Kaweka Forest Park... or simply relax in their thermal pools.
Hooters Vintage & Classic Vehicle Hire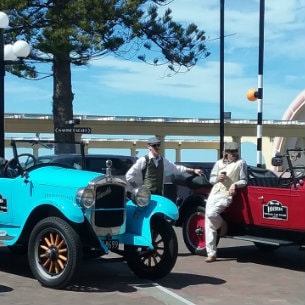 Based in Napier, Hawke's Bay, Hooters is a family run business offering tours, wedding, events and self drives in a variety of vintage and classic cars. The fleet currently houses over 20 vehicles which makes one impressive convoy for groups or corporate events. 
Daily Tours run from the Napier information centre on marine parade. What better way to introduce yourself to the Art Deco heritage of Napier than to travel in the style and decadence of the era. Explore the city limits or head further afield and soak up some of Hawkes Bay's finest wineries . Sit back, relax and enjoy the journey as your chauffeur awaits.
Raft Fish New Zealand
Join Raft Fish NZ for a unique raft fishing experience on the stunning Mohaka River. This spectacular river is one of the finest wilderness river systems in New Zealand and is home to rainbow and brown trout which can reach up to 10 lb or more! 

Departing from McVicar Road you'll set off on your 4 hour adventure and drift over beautiful waters to the sounds of birdsong . Soak up the serene surroundings that include magnificent gorges, farmland, waterfalls and untouched native forest. Along the way, they will stop for a spot of fishing and you can try your hand at fly or spin fishing. For the more adventurous, there's also some exciting Grade 2 Rapids! No rafting or fishing experience is needed to enjoy this half day adventure.
Raft Fish NZ have over 30 years experience on the river and will be on hand throughout the journey providing interesting commentary and of course their fishing tips on how to land a big one! So join them for a unique adventure, away from the hustle and bustle of daily life and surrounded by awe inspiring scenery.
---
Accommodation
Ormlie Lodge
Address: 17 Omarunui Rd, Taradale, Napier RD3, New Zealand
Built in 1899, Ormlie Lodge is a beautiful hotel offering boutique accommodation, combining a little of Hawkes Bay's old world charm with contemporary design and modern day comfort.
Set on 12 acres of gardens, this elegant lodge is only a 15-minute drive from both Ahuriri Harbour and Hawke's Bay Airport. Mission Estate Winery and several other vineyards are also a 15-minute drive. It is a 30-minute drive from Ocean Beach and a 40-minute drive from Waimarama Beach. As you round the sweeping drive, Ormlie Lodge offers up her inner beauty as you are led through the main entrance into the expansive hallway. 
The hotel offers 6 rooms, complimentary WiFi, each with an en-suite and the comfort you should expect. Breakfast is served continental style – either in the privacy of your own room or select an outside space, on one of the many spectacularly sunny days Hawkes Bay is known for. Truly, Ormlie is perfectly located for you to enjoy all that Hawkes Bay has to offer – from concerts at Mission Estate to Art Deco Weekend, strolling through the Farmers Market.  If you love golf, Napier Golf course is adjacent to Ormlie with complimentary green fees when staying at Ormlie.
Pebble Beach Motor Inn
Ranked No.1 of 47 hotels in Napier and Travellers' Choice™ 2014 Winner for service by Tripadvisor, you won't be disappointed with this luxurious oceanfront accommodation that's set perfectly on Napier's Marine Parade. Within easy walking distance to restaurants, cafés and the city centre attractions,  You'll feel like royalty with the in room spa pools, "Satinjet" rainforest showers and super-king beds.
Portside Inn Backpackers Lodge
Best ranked hostel in Napier. Ideal for those on a tighter budget but still out for a quality experience, this Backpackers Lodge provides easy walking distance to cafes, restaurants, bars and shops.  It has spacious facilities and BBQ areas for you to enjoy. 
---
Restaurants & Bars
Indigo Napier Restaurant
Address: 24A Hastings Street, Napier, New Zealand 
If you love authentic Indian cuisine, Indigo Napier is a must! 
Ranked #1 of 130 restaurants in Napier and 214 restaurants in Hawke's Bay Region awarded Certificate of Excellence 2014 by Tripadvisor - this restaurant with its philosophy "to ensure the guest feels like God" is guaranteed to please.
Their two high-class chefs Kamlesh and Awatar, with many years of experience and training both in India and New Zealand give Indigo a real edge with very high quality authentic India cuisine utilising a traditional Charcoal Tandoor which greatly enhances the flavour of the food.
At Indigo Napier, they believe in using only the freshest and best local produce and in providing a service that ensures their guests feel they are truly important. In addition, they developed a truly Authentic menu with both traditional dishes as well as some very specialist ones not seen anywhere else. They both take the utmost pride in the quality of preparation and presentation.
Make sure to reserve a table at Indigo so you can also try their extensive and comprehensive wines. Indigo has one of the most exciting Whisky/Bourbon menus with over 50 whiskies and bourbons from around the world. Open: Monday- Wednesday, Dinner: 5pm – 11pm Thursday – Sunday, Lunch: 12pm – 2pm, Dinner: 5pm – 11pm.
Ormlie Restaurant

Address: 17 Omarunui Rd, Taradale, Napier RD3, New Zealand
The new restaurant at Ormlie is the perfect place to wind down after a drive or sightseeing all day.  Relax in the bar this winter with the fire roaring, enjoying celebrated wines, craft beer, cocktails or a gin or two.  Head chef Andy Glover and his team deliver a seasonally inspired, a la carte menu, incorporating food sourced locally, executed with flair and passion. 
Ormlie also offers a modern spin on a traditional High Tea, where guests can relax in this stunning setting and enjoy locally sourced tea from KeriKeri, scrumptious savouries and freshly baked sweet treats made to order in-house.
Should you be celebrating a special occasion, Ormlie can help you create a memorable experience: from small intimate birthday dinners to large elaborate balls.  Ormlie's beautiful space is for you to make it your own. Make your reservations now to enjoy lunch in the sun, or a romantic dinner at Ormlie. 
VroomVroomVroom
Napier
,
North Island
New Zealand