Explore the highways of New Zealand with a campervan
From glaciers and mountain ranges to stunning coastline and winding country roads, New Zealand is a great destination to explore with a campervan. VroomVroomVroom can help you find campervan rentals in locations around the country, including popular depots in Auckland and Christchurch.
If you are new to driving a campervan, it can be a lot to take in. You will need to make adjustments to your driving style and think about different accommodation options. We have put together a quick guide to travelling in a campervan through New Zealand.
HIDE ME
HIDE ME
What sort of campervan should I hire in New Zealand?
Campervans are measured in berths (the number of people the vehicle can sleep). Two-berth vehicles are ideal for couples, but keep in mind they will have less room for amenities such as bathrooms, kitchen facilities and storage space. If you are travelling in a larger group, you might be better to look at hiring a motorhome that can sleep up to six people. These vehicles also often include kitchen and toilet facilities.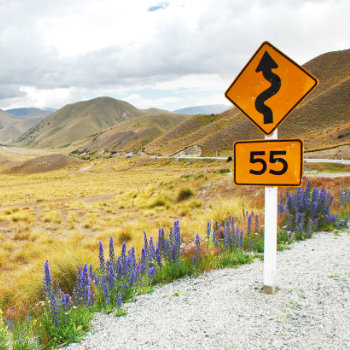 Campervan driving tips in New Zealand
If you are travelling to New Zealand from another country, keep in mind that you must drive on the left-hand side of the road.
Many traffic laws may be similar to the ones you are used to. In New Zealand, you aren't permitted to use a mobile phone while driving. You need to wear a seatbelt, and there will be penalties for driving after consuming certain amounts of alcohol.
New Zealand's highways can be narrow and windy, particularly in the South Island in the mountain ranges. If you are not used to driving a campervan, it can be difficult to navigate these roads in a larger vehicle. Slow down and take additional care if you are travelling on smaller roads.
Travel between destinations can often take longer than expected. Be sure to take plenty of breaks.
Secure your vehicle before you depart, and make sure there are no loose objects.
Weather conditions can be unpredictable. Drive to the conditions and take extra caution if the road is icy.
New Zealand laws restrict vehicles weighing over 3.5 tonnes to a maximum speed of 90 kilometres per hour. Allow extra time to reach your destination and travel at a slower pace.
Many areas in New Zealand have strict laws with instant fines for freedom camping in a vehicle that is not fully self-contained.
Despite being labelled as a State Highway, 90 Mile Beach and many other remote roads are unsealed. Campervan rental companies restrict access to these types of roads, so check with our customer care team if you are planning to venture to these regions.
If you're travelling during the colder seasons and not planning on staying at powered campsites, be sure to choose an RV that is fully insulated and has gas or diesel heating.
Unpredictable events can occur while you are travelling, so consider paying for insurance and on-road assistance.
Recommended RV parks and campgrounds
Whichever corner of New Zealand you are planning to explore, you will be sure to find some great RV parks and campgrounds. Travelling by campervan is popular, and therefore there are plenty of options for visitors.
Jackson's Retreat Campervan Holiday Park: Stay in Arthur's Pass in this convenient holiday park. Set in the rainforest and offering picturesque views of the Southern Alps, this park is easily accessible via the Great Alpine Highway.
Queenstown Holiday Park Creeksyde: Just a four minute walk from central Queenstown, this award-winning holiday park is the perfect place to stay.
Camp Waipu Cove: If you're looking to explore the beautiful Bay of Islands, stop in at this campervan park. You can enjoy nearby activities such as kayaking and surfing.
Rotorua Top 10 Holiday Park: Rotorua should be on everyone's must-see list while travelling in New Zealand. This centrally located RV park will give visitors access to local cafes and restaurants.
Which regions will you explore? Here are some of our favourites.
FIORDLAND
It isn't hard to see why Fiordland is one of the most popular regions in New Zealand among tourists. Home to the mighty Milford Sound, international travellers have been flocking to the area. Explore Fiordland National Park in a campervan, and be sure to stop in at locations like the Mirror Lakes and Te Anau.
BAY OF PLENTY
Appropriately named, there is a lot to do in the scenic region of the North Island. Explore the coast in your campervan, and stop into a few towns to try some of the local produce. Kiwi fruit is just one of the fabulous foods that are produced in the Bay of Plenty. When you've finished sampling the local cuisine, head to some of the stunning beaches.
WEST COAST
To experience the wild coast of New Zealand, the West Coast of the South Island is a must-see. With major centres like Greymouth where you can pick up a campervan rental, the region is easily accessible. Follow the highway to see incredible glaciers, unique beaches and vast rainforests. Read our campervan guide to the West Coast here.